Winter Floor Cleaning: Keeping Everything Spotless Even With Winter Slush! | Sanitary Supplier
You know what's coming; with winter comes the wet and snow coming into your business and making your floor a mess. Time to get your floors ready and learn how to keep that way no matter what the weather is like outside.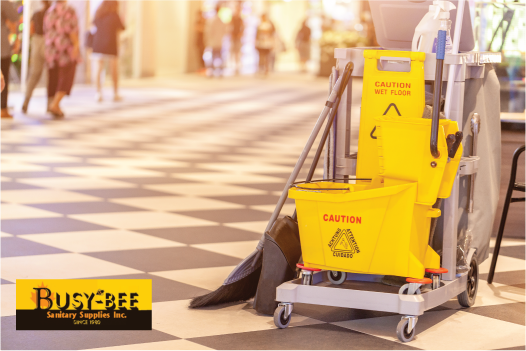 For a lot of places, the condition of your floor can have an effect on your company image and the comfort of customers and employees. With the proper janitorial supplies, you can keep everyone feeling confident in your business and clean and happy.
If you're looking for a top-quality sanitary supplier look no further than Busy-Bee! We carry a variety of cleaning products from commercial hand sanitizers, carpet and upholstery cleaners, floor care products, and more to keep everything in spotless shape from the floors to the doors. No matter if you are in Edmonton, Calgary, Wetaskiwin, or Cold Lake, or even Vancouver, Kelowna, Winnipeg, Prince George, or Cranbrook Busy-Bee is here to help you.

Starting out right with a floor care plan
A good floor care plan is important to both businesses that deal with customers regularly and office settings. A great plan includes more than just keeping the floor looking nice but also feeling nice, taking some extra effort to keep it well maintained healthy and safe to get the most out of your floors whether it's carpet or hardwood.

Going in with a protective layer
Right when the snow first hits, ice, salt and dirt can start to take a toll on hardwood floors. A great step to get your floors ready for this is to have a light scrub and recoating done, along with a high-quality finish to give a protective layer to your floors for the season. Having a preventive coat like this will help stop deeper stains from penetrating your floors.

Make use of matting
No matter how much people tap off at the entrance some dirt and salt can get tracked in and start to hurt your floors. Its been found that over 70% of the debris that causes damages to floors comes in from shoes that were pedestrian traffic outdoors. With the right matting and placement, this can be hugely reduced.
But don't just leave it and forget it! Matting still needs some attention too to stop it from being waterlogged, experiencing salt damage and eventually becoming a hindrance instead of an advantage.

Looking after your mops
Everyone knows how necessary a mop is for public businesses with a lot of foot traffic, but without proper care for the mop you might just end up moving the dirt around and not actually cleaning it fully. Properly rinsing and wringing out mops is needed so you can get the most out of them and keep their long life span. Changing out the floor cleaner solution to keep it fresh when it is an especially mucky day out helps a lot too. Don't forget about the mop bucket itself too, if this is dirty then no matter how much you clean your mop dirt will come back into play.

Cleaning your floors
Salt, debris, ice, and slush all pose their own problems to your carpets and floors. Debris can become a bre3dding ground for bacteria and the moisture from slush and ice can cause fungus growth in carpets if not looked after properly. To successfully fight against these issues a good deep cleaning about once a month is fantastic. The longer the dirt stays around, whether in your carpets or on your hard floors, the more easily it can do lasting damage.

Don't risk a ruined floor or unsafe environment
With Busy-Bee products backing you up, you can be confident that your floors can be ready for winter no matter what it brings. Reach out to us today to get started on a slush-free workplace!