Window Cleaning Accessories: The Top Products | Commercial Cleaning Supplies
If your windows and glass seem to get dirty right after cleaning then maybe the tools your using aren't up to the test. Its time to toss the cleaning supplies that aren't cutting it anymore and step up your cleaning game with this list of top window cleaning products.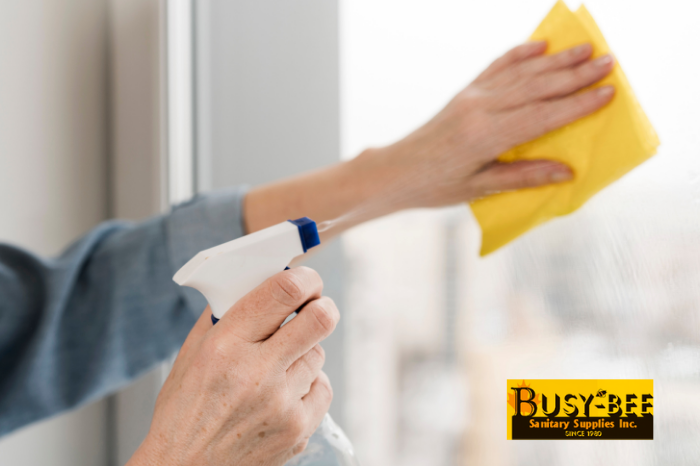 Busy-Bee Sanitary Supplies provides top quality janitorial cleaning supplies in Alberta, BC and Manitoba to combat any mess, smear, or dirt intruding in your life. We provide a vast expanse of commercial cleaning supplies in BC, AB and MB as well that work with you in your fight against dirt and grime.

What Window Cleaning Supplies Do You Need in Your Arsenal?
Of course, some things are expected; like rubber gloves, bucket, brush, etc. so its good to check on the quality of what your working with to make sure they don't need to be replaced. Making sure to have a good fit brush is a great idea, specially if you need to clean a lot of windows regularly.
Here are some items you should think of purchasing or replacing if they are on their last legs.
Strip applicator with cloth head
Fine steel wool
Squeegee
Cleansing powder with oxalic acid
Nylon scrubbing pad
Bucket
Ladder
Dishwashing liquid
White vinegar
Lint-free rags
Rubber gloves

An in-depth look at the commercial cleaning products
Make sure to get a qualtiy squeegee, a squeegee that is on its last legs can be one of the main reasons for streaks intruding on windows. Try to ask for one with a metal framing, have an amazing lifespan and a majority have a rubber blade that you can replace. The size of the squeegee that works best will be based on the windows you work with. With picture windows, a tool that is 12 inches long will work best. If you are working with windows that have many panes, it can be a good choice to measure the dimensions of the pane before to make sure the squeegee will match.
Obviously working with windows glass cleaner is another product that you will need to make sure is doing its job right. Although using a mixture of vinegar and water is an option to clean glass, there are some spots that come out better with a classic glass cleaner. Using the right solution also helps the glass stay fully streak-free.
Next up is how you apply a cleaning solution from cloths to sponges, they all have their own purpose. Microfiber cleaning cloths work great for a variety of surfaces, giving a consistent clean on each of your cleaning jobs. Sponges are useful to get a variety of different marks and spots off when other tools can't quite do the trick. Non-scratch sponges can be used as well for a more specialized approach depending on what stain your tackling.
Finally the rubber gloves and carrying caddy. A carrying caddy is perfect to hold all your cleaning supplies and make the job go smoothly, no matter what windows your working on. Everyone knows the classic rubber gloves as well. Using these is important to protect your hands form any of the chemicals and solutions that you are using to clean. Gloves also help to protect yourself from the germs that you fight against at a cleaning job. The right gloves keep you fully sanitary and safe.

Provide your clients with clean clear windows today! Commercial Cleaning Supplies, AB, BC, MB
With the items in this checklist, you should be all ready for your next window cleaning job. Stop stressing about stains, messes, and smears with the right top-quality equipment and cleaning solutions to tackle any problem you're faced with! Busy-Bee Sanitary Supplies is ready to provide you with the top-quality janitorial cleaning supplies you need.
Get top-grade commercial cleaning products. Contact Us.