Corporate & Business Hygiene: Top Commercial Cleaning Supplies | BC, AB, MA
With COVID-19 news about germs circulating on surfaces and in the air, having an ample supply of cleaning supplies is vital to keeping you and many others safe. Brooms, wipes, and sanitizing equipment will help you keep things clean and safe to use day in and day out. Moreover, your business will be able to attract a good amount of people safely.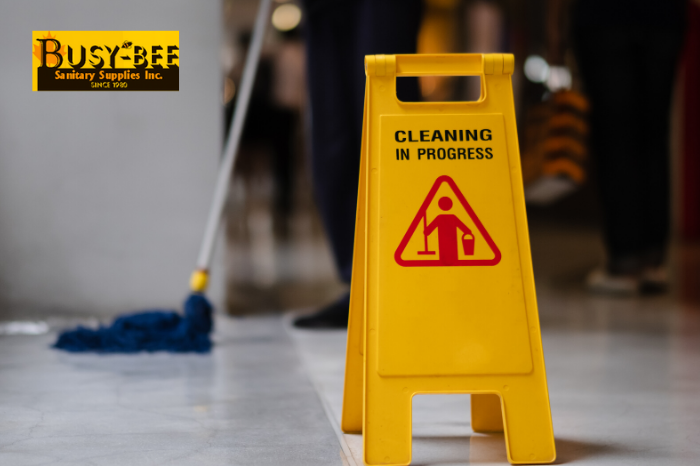 Busy Bee Sanitary Supplies has you covered with a wide array of cleaning supplies. We provide commercial cleaning supplies and carpet and upholstery care supplies in BC. All our products are priced fairly and are of high quality and durability for everyday use. You'll be able to uphold strict cleaning standards and maintain a hygienic environment that's safe for everyone. Not only do we service BC, we also offer janitorial supplies in Edmonton and other areas in Alberta.
Now, let's go over some of our best selling and popular cleaning supplies. We'll talk about how they can be effective tools against a pandemic and how our services will help you strengthen high cleaning standards. If you want to learn more now, call our Vancouver office at (604)-882-8711.
Busy Bee's Top Commercial Cleaning Products
In terms of cleaning products available, Busy Bee has a variety of them at your disposal. For general sweeping, we have many different sized brooms and brushes. Each of our brooms have strong brushes built into them to capture as many dust particles on the floor and corner as possible.
Floor care is also important because germs can propagate on such surfaces and properly cleaning them with the right tools and liquid solutions will kill them off. We offer high quality floor scrubbers and carpet care machines for more heavy duty cleaning jobs. These devices make sure each space is sanitized and cleaned after the day ends.
Busy Bee also has flat mops that make sure the floors are properly wiped. Along with finishing solutions and our other floor care products, you can be assured that the ground you walk on will be free of germs the next day. We also have deodorizers and detergents to not only rid of germs in a space, but also leave a nice scent for those coming in.
Those are just some of our most popular and effective products in our inventory. Now, we'll go into how they're important in the fight against COVID-19.
Busy Bee's High Cleaning Standards
As more commercial business and building reopen, cleaning and sanitation are of the utmost importance right now. Busy Bee adheres to the highest cleaning standards and we apply these to the products we sell in our inventory. We've continued to grow and adapt to the changing times and are always updating our catalogue on the new and most effective tools available on the market.
We carry a variety of environmentally friendly and LEED certified products. Our very knowledgeable staff will help you find the best products suited for your needs. Our team at Busy Bee services not only janitorial companies, but other institutions such as hotels, schools, hospitals, and high traffic buildings.
Our high cleaning standards are punctuated by our relentless high quality service. Whenever we rent our durable equipment, we always have trusted technicians to help repair them if they are not working properly. Whether it's cleaning supplies or machinery, Busy Bee has your support all throughout.
Get Top Quality Commercial Cleaning Supplies in BC, Call Busy Bee Now! 1-800-661-2035
We've got an expansive products list you can check out to see if we have what you need. If not, we'll do everything we can to help you out. Start by calling our Vancouver offices at (604)-882-8711 or email us at orderdesk@busy-bee.ca.
We have many offices across Canada and several provinces. Feel free to use this contact list to see your closest location or send us a detailed message.