Janitorial Cleaning Supplies | Restroom Maintenance Supplies, BC, AB, MB
If you operate a janitorial service, this article is going to be extremely helpful for you. The need for high-quality janitorial supplies in BC is probably #1 on your list of priorities. To serve your customers better, you need professional supplies that perform well in large-scale settings and are still robust enough to hold their own over time.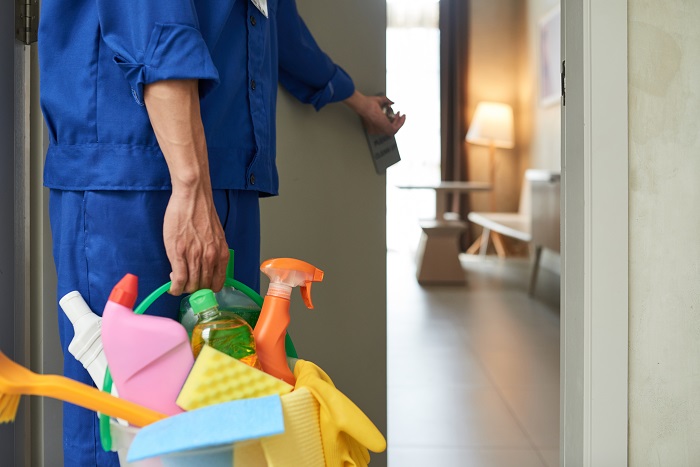 Busy-Bee has been proudly serving the janitorial and sanitation industry since 1980. Working with the top suppliers in the business, we carry a full range of industry-leading products that are LEED certified and environment-friendly. Our services range from everything like carpet and upholstery care supplies to maintenance and repair for cleaning equipment.
What tools do you need for a janitorial business? We've shortlisted a couple of the essentials that will set you in good stead.
Core Cleaning Tools
Granted, there are a lot of specialist items that you may or may not need depending on the nature of the work. However, no janitor can do without the very basics. High-quality brooms, mops, brushes and handles are among the most basic tools in your janitorial arsenal. These are available in a number of forms depending on your requirements. To this end, it's important to consider;
- The material of the floors you're cleaning
- Whether the cleaning also involves removal of debris
- Whether there are any close quarters that have to be serviced
- Whether you're working with wet or dry areas or both
- Whether any oils, compounds or chemicals are used
Once you have this figured out, the rest is just a matter of research. For instance, a mid-sized broom is larger and ideal for sweeping an open floor plan, whereas a whisk broom is small without a handle, making it ideal for tight spaces.
Deodorizers
When entering a building, the first thing people notice is the odour. Even if a space is clean, it may not always smell clean. When selecting a deodorizer, it's important to understand that different products are good at eliminating different malodours.
There are a couple of options here. A bio-enzymatic deodorizer rids the space of malodours that stem from urine, vomit and other organic components. These target the bacteria that feed on the organic matter, usually seen in the food and beverage industry, hospitals and locations close to garbage disposal sites.
If you select a deodorizer with a masking agent, typically the job should involve an odour source on which the deodorizer can be directly sprayed; toilets and urinals, dirty laundry bins and garbage cans.
Microfibre Cloths
Microfibre cleaning cloths are specifically designed with different grades that fit different tasks. The type of surface you're cleaning and the type of dirt you're targeting factors into which grade you should select.
Heavy-duty microfibre cloths are ideal for deep soils and oils. These work best in construction cleaning spaces like automotive shops.
Medium grade microfibres are ideal for wiping down countertops and sinks; surfaces that don't have extremely stubborn or expansive stains that take a lot of cleaning.
Regular microfibre cloths have a special suede texture that is ideal for glass and mirrors, These are much thinner than their counterparts and are more tightly woven, making them very non-abrasive.
Garbage Accessories
These include caddies, garbage cans and all the adjacent fixings. One caddy or cleaning cart can be widely different from the next, considering these are available either for high capacity cleaning or compact lightweight cleaning and are fashioned accordingly.
To meet the high-demand job of a janitor or custodian, it's best to go for a multi-function caddy that is easily portable and has the storage capacity for the different products you use. Larger carts may sometimes be useful but they are not always necessary.
Some caddies are even designed to accommodate receptacles that make them able to hold essential tools and cleaning products while also leaving space for waste.
Gloves and Safety Gear
A custodian's first line of defence; protective tools. These run the gamut from respirator masks, safety signs, rubber flex gloves and earplugs.
Most commercial facilities and buildings will have a safety guide that acts as a reference for cleaners, caretakers, managers and anyone who works in any capacity in the custodial department.

To know which assortment of items works best, it's important to assess the potential hazards in the cleaning space. Check for chemicals, heavy-duty-machinery, odours, harsh lighting, and the likes.
High-Quality Cleaning Supplies Make Your Job So Much Easier!
And that's what we're here to do - make YOUR job easier!
Busy-Bee offers superior products that are built to last even in the most robust environments. All products are LEED-certified and are expertly designed to deliver comfortable and easy handling.
We take care of all your cleaning needs - from start to finish. Contact our knowledgable staff to find the perfect products for your business!