Commercial Cleaning Supplies: The Best Secrets to Utilizing the Perfect Janitorial Products
If you want to keep a commercial area crystal clean, you'll need to find the perfect janitorial supplies that are right for the job. You'll need quality products that cover all bases at a fair price that works within your budget. You want the best value and should never settle for less.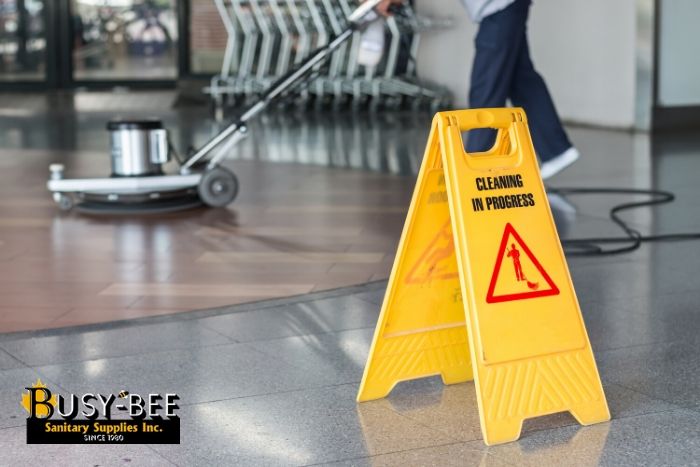 Perfect janitorial supplies offer the best service suitable for commercial cleaning and durable equipment to clean things properly. From janitor brooms and brushes to the proper cleaning solutions, the best materials will help keep your place fresh and spotless.

At Busy Bee, we'll give you the best-known secrets to getting the right janitorial products for commercial cleaning. We're a company that provides a full range of commercial cleaning supplies in BC and friendly staff to assist you. Let's go over what you need to know about finding the right cleaning materials.
The Cleaning Essentials
When evaluating what cleaning products you require, you should always focus on the quality and standards of the products. Environmentally friendly sanitary supplies are always a catch, so first make a list of your essential cleaning products and then find the right eco-friendly solutions.
Whether it's a building, facility or factory, every surface gets dirty, no matter how careful one maybe. It's crucial to understand how to properly disinfect and create a healthy, germ-free environment that is vital for the health of the people working in the facility.
Research What Products to Use
Among the many cleaning products you'll encounter, there are varieties upon varieties of them to choose from. Each product has different uses and formats for different situations. For example, you would want to use a large broom to sweep wide areas of flooring, but then switch to a smaller one with a dustpan to reach small corners.
The same rules of practice apply to liquid cleaning solutions and deodorizers. Each has its own function and preferred scent to make your washrooms pleasant. For more heavy-duty cleanups, research the types of automated equipment you want to use as well. Carpet machines, floor scrubbers, and vacuums work to create clean surfaces and messes in no time.
Cleaning Techniques
Of course, how you use the cleaning products matters if you want to make sure your space is clean. Always use properly updated equipment and products This doesn't necessarily mean brand new, but it does mean that you will properly sanitize and clean each space in your office.
Along with the proper use of good equipment, remember to train your staff to employ efficient cleaning techniques. It's important that the cleaning equipment is advanced and doesn't take more time than necessary to complete the job. Efficient cleaning tools will take just the right amount of time without sacrificing cleanliness and proper sanitation.
Taking the Next Steps
We've gone over ways to find the right cleaning products for you and how to use them properly. We hope our advice will help inform you about deciding what is right for you. If you'd like to learn more about our services and the type of products we offer, visit our homepage for more details.