A Guide to Making Your Janitorial Duties a Breeze | Sanitary Supplies Western Canada
We take public restrooms for granted all the time and maintaining their cleanliness can be challenging. Janitors have the difficult job of cleaning up as the restroom can get messy fast. It's one of the most frequently used rooms in a building and to neglect cleaning it results in a dirty, unhealthy area.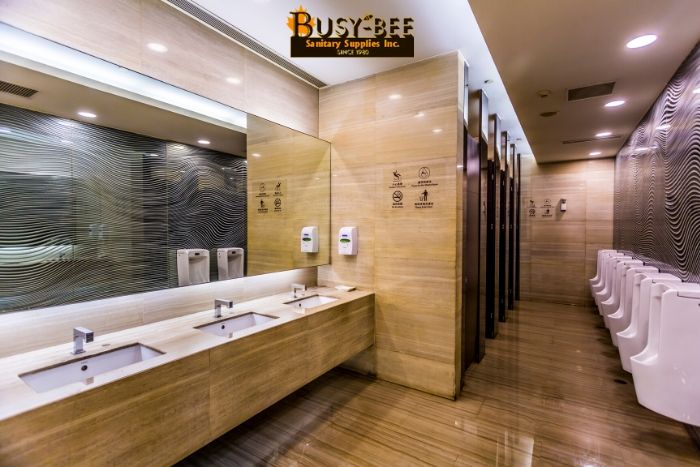 To tackle the biggest problems of restroom cleanliness, you'll need the right sanitary supplies for the job and a positive mindset. Preparation is key and you should never feel intimidated at the thought of cleaning up someone else's mess.

Busy-Bee Sanitary Supplies Inc. is your go-to restroom maintenance company in Western Canada. We'll provide the right tools for your corporate staff and have some tips on making janitorial duties simple and effective for everyone involved. Our services range from helping janitorial staff in schools, hospitals, and corporate offices.
Get the Right Tools
If you need to freshen and maintain a clean restroom, you'll need quality products to help you with the job. It's important to use high-quality tools that you trust because you can always rely on them to help you with a variety of tasks. Many items vary in strength from regular, strong, and extra strong. Some cleaning items are also being compostable.
Using a cleaning item, whether regular or strong, depends on how messy or clean the area is. For example, toilets are one area of priority for janitors and can be one of the messier places in a restroom. You want people to use stalls with ease and comfort and cleanliness is key to this.
Using effective bowl cleaners will overpower nasty odours and break down anything in the toilet itself. They come in liquid or powder form, so pick whichever works best for your toilet. Restroom disinfectant also helps because it provides a nice smell while disinfecting surrounding germs. Strong bowl swabs and plungers can also help clear away unwanted stuff in toilet bowls and saves you the trouble of witnessing an ugly sight.
In men's restrooms, urinal blocks help reduce the foul stench that comes from urinals. Getting hold of an effective urinal screen also helps in blocking any unnecessary debris in them. The combination of these two items will help keep urinals clean and fresh for people often. They come in a variety of colours and scents, so it's your choice on how you want the area to smell.
Keep Things Fresh and Operational
Items in a restroom can disappear gradually with frequent use. The room can also get messy if you don't tend to clean it often. That's why it's important to keep cleaning tools in stock and refill them as needed (e.g. paper towels, hand soap, toilet covers). It's also crucial that things like hand dryers and baby changing tables are working properly in case someone needs to use them.
Restocking toilet paper consistently will save you the trouble of doing the task when you run out. If you have mirrors in your restroom, use clean wipes or a dry rag with some disinfectant spray to make sure they are clean and germ-free. For women's restrooms, be sure to keep generic stocks of tampons and sanitary napkins available for those who need them.
When you have the right tools in place, you can keep the restroom clean at every opportune time and maintaining a plentiful stock will help both you and the person.
Use the Appropriate Signs
If you've probably seen those yellow "cleaning in progress" or "slippery when wet" signs, you're not alone. Such bright signs alert people of what you're doing in the restroom and what to be cautious of. It keeps people informed of the situation as well as other janitors when necessary.
Cleaning signs are useful when taking into account peoples' safety and can be placed in the entrance of public restrooms when necessary or any corresponding areas nearby. Posting the right signs not only helps you do your job better but also makes another person's day easier.
Take These Next Steps
We have all the sanitary supplies that we've run down in this article available in our expansive inventory. Our product list is constantly updated and we can process your orders seamlessly through our system. All our products are LEED certified and environmentally friendly to use in your corporate restroom.

Busy-Bee Sanitary Supplies is the top supplier of cleaning products in Western Canada. We have several locations across different provinces, so visit our homepage for more information on how to get in touch with us.