Janitorial Supplies for Food Service: Must-Have Products In Your Arsenal | Sanitary Supplier BC
Effective cleaning and sanitation is the number one priority when it comes to preventing the risk of contamination in food facilities and services. We at Busy Bee are a family-owned and operated sanitary supplier in BC for janitorial supplies and window cleaning accessories for food facilities.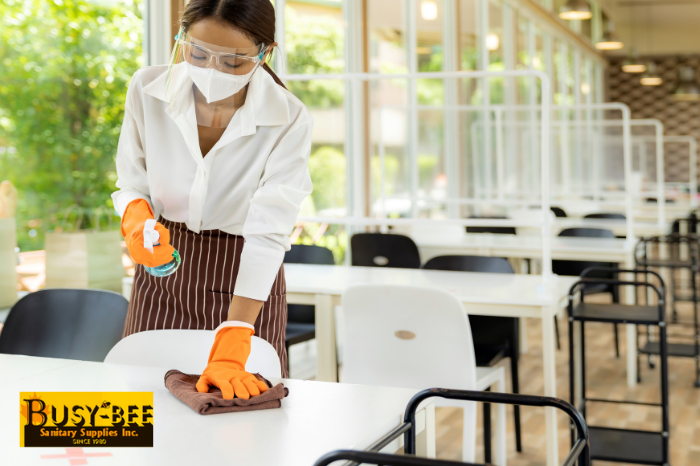 According to the Canadian Food Inspection Agency (CFIA) taking the essential sanitary steps to reduce the spread of microorganisms prevents contamination of food and results in the longer shelf life of food. Following are Health Canada's requirements for foodservice cleaning protocol for food services in light of COVID:
- Employers must make sure that all staff or employees are well educated about the virus and minimization of its spread. A clear organizational policy must be in place if any employee falls sick or has symptoms.
- Provide adequate information, personal protective equipment, training to all employees or any person or clients entering the restaurant or store.
- Employees must practice proper physical distancing and practice handwashing protocol and avoid touching their face at all times. If they feel unsafe to work, report immediately to the supervisor or manager.

Busy-Bee's products combat against germs and viruses, helping to keep you and your employees safe. Here is a list of some must-haves for your restaurant or store cleaning arsenal:
Quality Commercial Sanitizers
There are a number of benefits that sanitizers can offer, especially in the current situation of a pandemic. It is effective and easy to use when soap and water are not available. Hand or surface sanitizers with more than 60 percent ethyl or isopropyl alcohol are the ones you need to kill most germs and the alcohol percent can reach up to 99% adding to the efficiency of the sanitizer in protecting against germs on hands, doorknobs, surfaces, carts or simply everywhere.
Commercial Disinfectants
Health Canada has mandated the use of disinfectants with chlorine compounds, peroxide, iodine compounds, carboxylic acids and quaternary ammonium compounds in food preparation and storage facilities. Not all disinfectants are suitable or appropriate for usage on food contact surfaces. We can help you in choosing the right disinfectant with the appropriate drug identification number (DIN).
Commercial Detergents
It is very important to understand the difference between disinfectants and detergents. For effective cleaning in any food facility, it is important to use detergents to remove soils and residues from surfaces to leave them ready for the step of disinfection. The detergent solution suspends the food particles and bacteria from the surfaces and rinses off into the drain for a complete cleaning procedure.
Commercials Deodorizers
Deodorizers are a cleaning supply essential for eliminating any odours. Absorbent deodorizers include activated charcoal and silica gel which removes odours by absorbing molecules from the surfaces and removes impurities. Odour removal is very important for any business, restaurant or any commercial space leading to the neutralization and elimination of bad odour.
Floor Care Essentials
Bacteria and germs can easily transfer to food shelves and preparation areas. Therefore it is essential to use FDA-regulated industrial cleaning equipment like scrubbers and sweepers which prevent the spread of bacterias and allergens from spreading in the facility. It is crucial to ensure cleanliness and worker safety in any commercial establishment using floor care equipment.
Why Choose Busy-Bee Products
At Busy-Bee Sanitary Supplies Inc, we provide a complete range of superior and efficient floor cleaning products, commercial cleaning supplies, restroom maintenance supplies and all commercial cleaning types of equipment that are environmentally friendly and offer great value to you cleaning arsenal.

Ready to explore the right supplies for your food facility? We promise to help you from the start to finish!
Contact us today and ask about our top-grade janitorial supplies for your commercial space.