Sanitization of Public Spaces: Important Janitorial Cleaning Tips | Commercial Cleaning Products
As more and more places and businesses are opening offices and letting people in this is a very cautious time. One wrong misstep and a happy regular office life can go back to working from home with just one cough or sneeze. With that comes a whole new territory in cleaning, our team at Busy-Bee Sanitary understands this and aims to provide you with commercial cleaning supplies in BC. Giving you fantastic janitorial cleaning supplies in Alberta, Calgary, Vancouver, Winnipeg and other areas, as well ready for any office, school, building or space.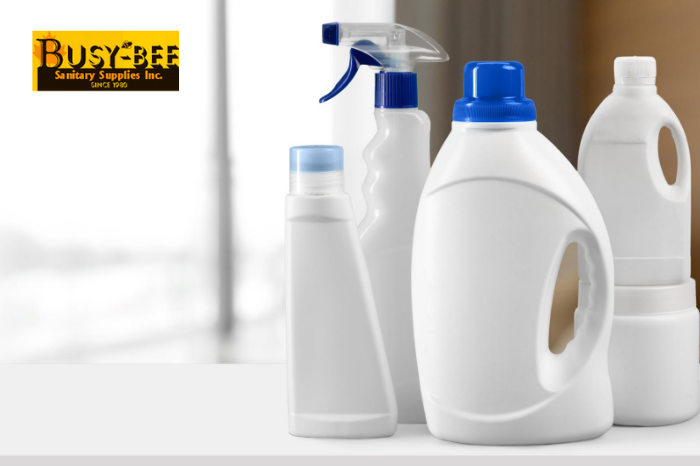 Commercial Janitorial Cleaning Products
Before jumping into cleaning you need to understand a couple of things. Of course, you need to know which cleaners can fight COVID best and what to bring along to a job or site, but knowing the site itself is just as important if not more so.
Which areas are frequented the most, equipment that is used more often than others, and what will be used by multiple people as opposed to just a single person is important. Knowing the lay of the land so to speak can not only help you tackle COVID the best you can but also let you work smartly and effectively instead of feeling the need to deep clean every inch every day.
Things such as light switches, doorknobs, toilet handles, counters, handrails, elevator buttons, touch screens and keypads need more attention than a barely used printer, for example.
The best cleaners to use are ones Health Canada recommends and try to use only disinfectants with a DIN or Drug Identification Number which is an 8-digit number. Also always make sure the check the manufacturers' instructions for specific usage, some cleaners cannot work on different surfaces or even end up stripping wood finishes if not used correctly.
Best Cleaning Products To Use For The Job
Each new surface can need a new cleaner to match it, cleaners are great for grease and getting organic material off a surface, giving you the initial clean and base to get ready to reach germs and viruses. Meanwhile, disinfectants come after the initial cleaning to get germs and have a drug identification number (DIN) which makes it fit for COVID. Disinfectant wipes are a combination of both, but easily become dry and are not recommended for more heavily stained or soiled surfaces.
No matter the cleaner still make sure to read the manufacturer's instructions to make sure you properly mix and prepare solutions, allow the adequate contact time for a disinfectant to get to any germs, determine if gloves are required to use the product, and any other protective equipment depending on the harshness of the chemicals present.
Learn More About The Virus And Stay Up To Date
More is being learned and studied in relation to COVID every day, as it is still a relatively new virus staying up to date with official information is very important. Health Canada has information that is updated regularly and each province has its own pages for COVID as well, so you can fully understand not only COVID but also the virus in your specific area and the government's recommended approach based on what stage your city or town is in.
Busy-Bee Sanitary is ready to aid you along the way, you find the information to tackle COVID with you. Reach out today to learn more about our selection.
Get top-grade commercial cleaning products. Contact Us.